The Tears of the Moon | Larmes de lune (SLG 2016-17)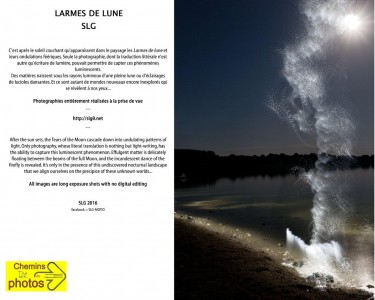 C'est après le soleil couchant que l'on
peut voir naître dans le paysage les
Larmes de lune et leurs créatures
enchantées.
Les sources lumineuses captées lors
des prises de vue nocturnes, qu'elles
soient naturelles ou artificielles, sont
autant de traces et d'empreintes de
lumières imprimées dans l'obscurité par
la photographie dont le sens premier
n'est autre qu'écriture (graphie) de
lumière (photo) .
Les matières naissent sous les rayons
lumineux d'une pleine lune,
d'éclairages telles des lucioles
dansantes.
Et ce sont autant de mondes nouveaux
encore inexplorés qui se révèlent à nos
yeux.
First Exhibition Festival des Chemins de photos @Sainte Foi (church & village) Ariège 01/06>30/09 2016
Itinéraires photographiques en Limousin @Mortemart 29/07>13/08 2017
////Media press Article Le Populaire du Centre août 2017////
Chemins de photos 2017 @Escueillens 01/06>30/09/17 /// Atelier-Galerie Pearon @FLIP Parthenay (79)